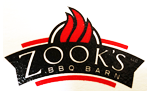 Newtown Farmer's Market
2150 South Eagle Road
Newtown, PA 18940
215-504-9292
Zook's BBQ Barn Newtown Farmer's Market
$2 Off Any Purchase of $10 or More or $5 Off Any Purchase of $20
Limit one per visit
Must present paper coupon
Not to be combined with other offers
Expires May 31, 2018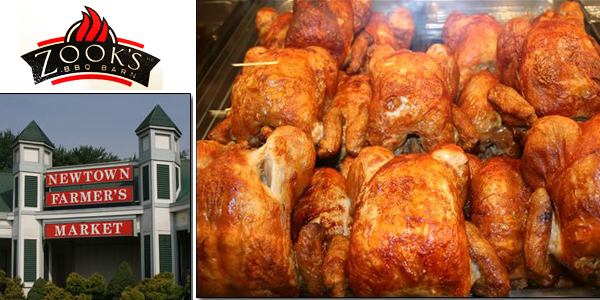 Zook's BBQ Barn Newtown Farmer's Market
A great idea to serve our delicious smoked BBQ Baby Back Ribs, Chicken, wings and more. We can do sandwiches or platters and custom to any of your requests. Call ahead for more information or go to our website at
http://www.newtownfarmersmarket.com/cgi-bin/index.cgi?page=zooks_bbq
 $2 Off Any Purchase of $10 or More or
$5 Off Any Purchase of $20 or More at Zook's BBQ Barn Newtown Farmer's Market
As a weekend shopping destination in Lower Bucks County, the Newtown Farmer's Market's Pennsylvania Dutch vendors are known for their superior food offerings. Zook's BBQ Barn is always bustling with crowds who want to take home their mouthwatering, falling-off-the bone favorites!
When you come to Zook's, chickens are basting in the rotisserie, meats are being smoked on premises, and the aromas are heavenly! Taste the succulent baby back pork ribs that melt in your mouth; turkey breast, ham, roast beef, chicken wings or drumettes; try the barbecued whole carrots, sweet potatoes, roasted whole red potatoes or mashed potatoes and creamy cole slaw as the perfect sides. Have a hungry crowd at home? Grab full meal platters or sandwiches to go. Forget the supermarket rotisserie. One taste and you'll be back again and again to get your Zook's BBQ Barn Amish favorites!
Remember, the Newtown Farmer's Market is only open Thursday 9–6, Friday 9–7 and Saturday 9–4, so plan ahead! Grab a breakfast sandwich to start your day Thursday and Friday 9–11, or Saturday 9–11:30.
$2 Off Any Purchase of $10 or More or $5 Off Any Purchase of $20 or More at Zook's BBQ Barn Newtown Farmer's Market
Viewed 22,308 times
Zook's BBQ Barn Newtown Farmer's Market
Newtown Farmer's Market
2150 South Eagle Road
Newtown, PA 18940