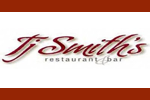 1585 Easton Road
Warrington, PA 18976
215-343–1440
T.J. Smith's Restaurant & Bar
$5 off any Lunch or Dinner check of $20 or more, Dine in only or
$10 off any Lunch or Dinner check of $50 or more Dine in Only
Limit one per customer per table
Dine in only
Not Valid on Monday's Burger night special, Tuesday's two for $22, or Wednesday's Prime Rib special
Not Valid during Happy Hour
Not Valid on Any Holiday
Must present paper voucher in order to receive discount
Expires Nov 30, 2019
Not to be combined with other offers.
Please present paper coupon.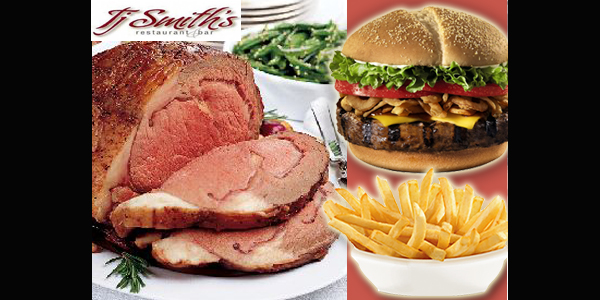 T.J. Smith's Restaurant & Bar
$5 off any Lunch or Dinner check of $20 or more, Dine in only or
$10 off any Lunch or Dinner check of $50 or more Dine in Only
At T.J. Smith's Restaurant & Bar, their belief is that their customers' needs are of the utmost importance. Our entire staff is committed to meeting those needs and making your visit with us an enjoyable experience. They pride themselves on offering nutritious, well-prepared meals using only the highest quality ingredients – all at a fair price.
For casual dining with a fun atmosphere, T.J. Smith's Restaurant & Bar in Warrington, PA can't be beat.

• Specials for each weekday: Burger Night every Monday from 4 pm until closing; 2 for Tuesdays with 2 Entrees & 1 appetizer for $22.00 from 6 pm to 10 pm; every Wednesday night enjoy a delicious Prime Rib Dinner starting at 4 pm; Thursday evenings at 8 pm play Quizzo and win great prizes – grab a great meal, a cold drink, exercise your mind and RELAX! Specials: $5 House Martinis & House Cosmos, $3 Corona or Corona Light bottles; Friday live music night
• Happy Hour every Monday–Friday, 4–6 pm with 1/2 Price Selected Appetizers, 1/2 Price House Wines and1/2 Price Drafts
• Mouth-watering entrees such as Fish Tacos (three flour tortillas stuffed with grilled mahi mahi, lettuce, pepperjack and cheddar cheeses and a cilantro cream, with black beans and rice, guacamole and pico de gallo); Barbeque Baby Back  pork loin ribs braised until tender, brushed with barbecue sauce, served with french fries and coleslaw; Chicken Valdostano which is sauteed chicken topped with prosciutto and mozzarella in a vodka cream sauce with capellini pasta
• Hearty burgers, panini, wraps and sandwiches
• Sunday breakfast buffet, lunch buffet, dinner banquets
• Lots of gluten-free options, and children's menu available
• Hours: Mon.–Thurs. 11 am–midnight; Fri. & Sat. 11 am–2 am; Sun. 9 am–midnight
Look forward to a great time when you grab one of these delicious deals at T.J. Smith's Restaurant & Bar!

$5 off any Lunch or Dinner check of $20 or more, Dine in only or
$10 off any Lunch or Dinner check of $50 or more Dine in Only
Viewed 35,365 times
T.J. Smith's Restaurant & Bar
1585 Easton Road
Warrington, PA 18976