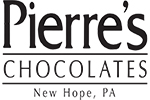 360 West Bridge St.
New Hope, PA 18938
215-862-0602
Pierre's Chocolates
$3 off $15 or
$5 off $25 or
$10 off $50
Offers good for pick up only
Limit one per family
Only one coupon to be used per month
Valid for in store only
Not to be combined with other offers
Please present paper coupon
Expires Jun 30, 2017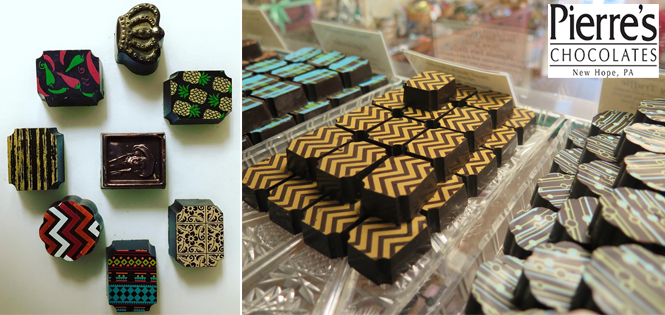 Pierre's Chocolates
$3 off $15 or
$5 off $25 or
$10 off $50
Offers good for pick up only
Imagine the taste of an exquisite chocolate truffle as you slowly savor its rich, velvety texture. Now that we have your attention, grab one of these deals and head on over to Pierre's Chocolates!
They have a large assortment of holiday gift boxes and packages and that they ship anywhere in the USA
Pierre's Chocolates in New Hope, PA is a family owned and operated chocolate shop offering the most exceptional chocolates and gifts. For the past 30 years, Pierre's has been dedicated to crafting the most exceptional chocolates in Bucks County. They are a family owned and operated full service retail chocolate store. All of their chocolate is handmade on the premises by our two chocolatiers, Tom & Justin. Winner of Bucks County's Best Chocolatier for 2014, 2015, & 2016, Pierre's Chocolates features old world recipes created by Swiss chocolatier and original owner Jean Pierre Meyenberg with a modern touch.
Named Best Chocolatier by the Bucks Happening List 3 years in a row – 2014, 2015, 2016!
They have a line of small batch chocolates that feature single origin chocolate from Central and South America and Hawaii. Go in and taste some of their other creations like the Bangkok truffle made with Thai tea, ginger, coconut, lemongrass, and vanilla blended with milk chocolate. Or, the Cherry Chocolate Truffle  with red wine from Crossing Vineyard Winery.
STORE HOURS
Monday-Friday – 10am-6pm
Saturday – 10am-5pm
Visit Pierre's Chocolates on Facebook for lots of product photos and much more!
$3 off $15 or
$5 off $25 or
$10 off $50
Offers good for pick up only
Viewed 2,864 times
Pierre's Chocolates
360 West Bridge St.
New Hope, PA 18938