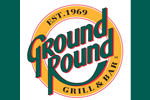 735 Middletown Blvd
Langhorne, PA

(215) 757-2323
Oxford Valley Ground Round® Bar and Grill
$5 off food purchase of $25 or more or
$10 off food purchase of $50 or more or
$20 off food purchase of $100 or more
TUESDAY BURGER NIGHT 4-10pm – Free burger, buy 1 get 1 free with the purchase of 2 beverages, up to 2 burgers per table. Valid at Ground Round, Langhorne location only
KIDS EAT FREE Ages 10 and Under - with the purchase of an Adult Entree $10.99 & Up from regular menu. Must order from Kids Menu. Limit 1 Kid Dinner per Adult Entree
Fine Print for $ off Food Purchase:
With this coupon.
Dine in only.
Not to be combined with any other coupons or $6.99 lunch specials.
Not valid with lunch or dinner specials or daily specials.
Not valid holidays.
One coupon per table.
No second party distributor.
Valid at Ground Round, Langhorne location only.
Expires May 31, 2019
Not to be combined with other offers.
Please present paper coupon.

Fine Print for Tuesday Burger Night:
Dine in only.
Free burger,buy 1 get 1 free with the purchase of 2 beverages.
Up to 2 burgers per table.
Not to be combined with any other offers or coupons.
Not valid holidays.
Valid on Tuesdays 4pm-10pm only.
One coupon per table.
No second party distributor.
Expires May 31, 2019
Must purchase.
1 beverage per person.

Fine Print for KIDS EAT FREE:
With this coupon.
Dine in only.
Not to be combined with any other coupons.
Not valid with lunch or dinner specials or daily specials.
Not valid holidays.
One coupon per table.
No second party distributor.
Valid at Ground Round, Langhorne location only.
Not to be combined with other offers.
Please present paper coupon.
Ages 10 and Under - with the purchase of an Adult Entree $10.99 & Up from regular menu. Must order from Kids Menu. Limit 1 Kid Dinner per Adult Entree
Expires May 31, 2019
Not to be combined with other offers.
Please present paper coupon.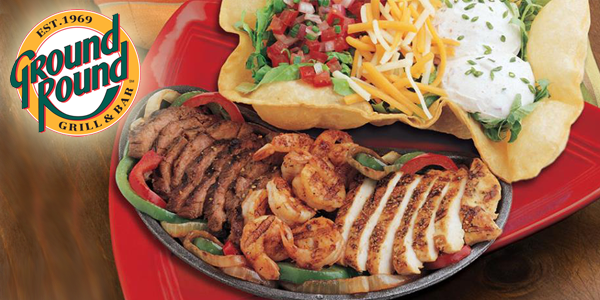 Oxford Valley Ground Round® Bar and Grill
$5 off food purchase of $25 or more or
$10 off food purchase of $50 or more or
$20 off food purchase of $100 or more
TUESDAY BURGER NIGHT 4-10pm – Free burger, buy 1 get 1 free with the purchase of 2 beverages, up to 2 burgers per table. Max $15 per table – valid at Ground Round, Langhorne location only
SUNDAY KIDS EAT FREE Ages 10 and Under – with the purchase of an Adult Entree $10.99 & Up from regular menu. Must order from Kids Menu. Limit 1 Kid Dinner per Adult Entree
SPECIAL $5 MENU During Philly Games also from 9pm-11pm Monday-Thursday– in lounge only. Chicken quesadilla, buffalo chicken dip, fried green beans, tower o'ring (7) pieces, mozzarella sticks (5) pieces, Philly cheesesteak egg roll (3) pieces, boom boom shrimp (6) pieces, margherita flatbread, beef or chicken nachos, potato skins (5) pieces, DRAFT beer – budweiser $1.00 16 oz, Bud Light $1.00 16 oz, Aluminum Miller Lite $1.50 16 oz, Aluminum Bud Light $2.00 16 oz.
The first Ground Round® was built in 1969, and provided a "neighborhood pub" experience where everyone, including couples and families, felt comfortable. The restaurant featured primarily burgers in a basket, snack food and pitchers of beer. The atmosphere was casual and relaxed, and the Ground Round® was a big success with customers. They are continuing this great tradition at the Oxford Valley Ground Round® Bar and Grill in Langhorne, PA by offering a large menu with something for everyone. They are also one of the few family-oriented restaurants where adults can enjoy full liquor service with their meals, with a variety of beer, wines, and mixed beverages.
Lunch Special Menu only $6.99 (beverage included) Mon-Fri 11am-4pm (over 40 items available).
HAPPY HOUR
Monday-Thursday 4pm-7pm and Fridays 5pm-7pm (lounge only)
Check out our Bar Menu for specials on drinks and appetizers (4pm to close)
$2 Domestic pints(excludes Sam Adams & Yards), $3 house wines, $3.50 house mixed drinks
Click this Facebook Link to see details
American (New and Traditional), Brunch, Burgers, Cajun/Creole, Mexican, Sandwiches, Seafood, Tex-Mex and Vegetarian;
Chicken, Ribs, Steak, Fresh Specialty and Classic Burgers; Appetizers, Soups, Salads, Flatbreads, Pasta, Seafood, Healthy Choices, and even Gluten-Free and Kids' Menus! All steaks are from "USDA Choice" corn-fed Midwestern beef, and all classic burgers are fresh 100% USDA beef.
Oxford Valley Ground Round® does in-house party catering, too. Do you have a special event you are looking to celebrate, or a company lunch? Let them help YOU plan the perfect meal ensemble. Call for details and pricing!
Hours Mon.–Thu.: 11 am–12 am, Fri.–Sat.: 11 am–1 am, Sun.: 11 am–12 am
Find Oxford Valley Ground Round Bar & Grill on Facebook! Also on Twitter and YouTube!
See our daily specials

Viewed 22,184 times
Oxford Valley Ground Round® Bar and Grill
735 Middletown Blvd
Langhorne, PA