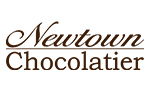 66 Richboro Road
Newtown, PA 18940
215-579-2333
Newtown Chocolatier
$2 off $10 or
$5 off $25 or
$10 off $50
Limit one per visit
Must present paper coupon
Not to be combined with other offers
Expires Nov 30, 2018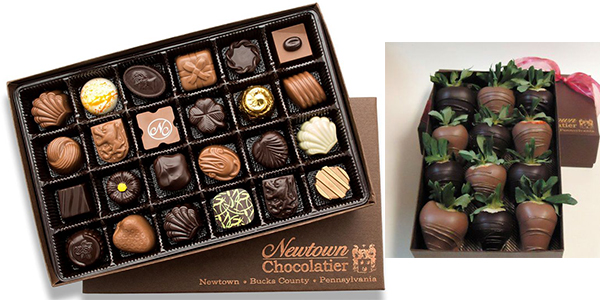 Newtown Chocolatier
$2 off $10 or
$5 off $25 or
$10 off $50
For chocoholics in Bucks County, there is a favorite oasis for all the senses called Newtown Chocolatier. Since 2002, Newtown Chocolatier has been an institution in the area, satisfying cravings for creamy, European-style confections that exude their heavenly aromas as soon as you enter the store.
Towers, Custom Corporate Gifts, Favors, Gift Boxes, Baskets, Platters and more!
Callebaut Belgian chocolate with varietals like the rare 80% Cacao South African Kumabo used in signature handmade confections created on premises
Custom blends of Belgian and French chocolate, heavy cream and natural flavors — are turned into delicious ganache!
Hand-dipped marshmallows in custom-blended chocolate, as well as individual pieces or mix and match with other products in gift packs
Wedding favors and corporate gift boxes can be custom printed
Baskets, platters and novelties for all occasions (bridal/baby shower, holidays, etc.)
Customer recommendations: handmade turtles with thick chocolate, chewy caramel and salted pecans, fruit creams, exclusive truffles, peppermint patties, chocolate-covered pretzels, almond butter crunch, peanut butter cups, non-pareils with multi-colored sugar beads for all seasons, and much more.
Imagine the taste of an exquisite chocolate truffle as you slowly savor its rich, velvety texture. Now that we have your attention, grab this deal and head on over to Newtown Chocolatier to make that fantasy come true!
Continue to savor those flavors with daily special announcements when you visit Newtown Chocolatier on Facebook!
$2 off $10 or
$5 off $25 or
$10 off $50
Viewed 3,551 times
Newtown Chocolatier
66 Richboro Road
Newtown, PA 18940