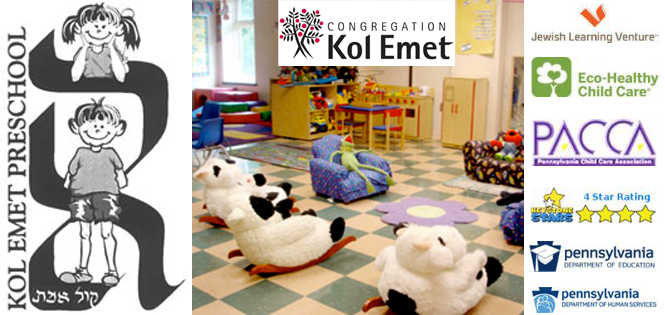 Kol Emet Preschool & Kamp Kol Emet
Great location: www.kolemet.org
Come for a visit http://kolemet.org/contact-us/
Top 10 reasons your child deserves a quality Kol Emet Education:
Highest Keystone STARS Ranking (4 STARS).

Low teacher-to-child classroom ratio.

Warm, friendly, caring, experienced, highly qualified teachers.

On site, Director, Nurse, Certified teachers and Specialists.

Accepting ALL children 18 months to 5 years old.

PA Core Standards with academic curriculum.

Spacious classrooms and beautiful outdoor grounds for creative play.

Community friendly and values-based education.

Active PTO with engaging family programs.

Preschool hours with daycare options.
Classes offered: http://kolemet.org/programs
Read what parents have to say: http://kolemet.org/preschool
Meet our well-educated, professional staff: http://kolemet.org/preschool
Location:
Congregation Kol Emet
1360 Oxford Valley Road
Yardley, PA 19067
(215) 493-8522
Viewed 539 times
Kol Emet Preschool & Kamp Kol Emet
1360 Oxford Valley Road
Yardley, PA 19067