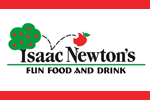 18 S State St
Newtown, PA 18940

215-860-5100
Isaac Newton's Bar and Restaurant
$5 Off Any Lunch or Dinner Check
Good 7 days a week
Limit one per table
Limit one per visit
Minimum of 2 people per table
Not Valid on Any Holiday
Expires Nov 30, 2019
Not to be combined with other offers.
Please present paper coupon.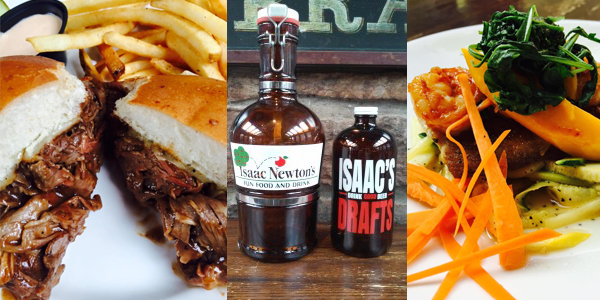 Isaac Newton's Bar and Restaurant
$5 Off Any Lunch or Dinner Check        
You don't need an apple to fall on your head, or a degree in physics to know that Isaac Newton's Bar and Restaurant is one of the most popular casual eateries in Bucks County. Featuring 19 taps, their beer selection is one of a kind in the area. They offer a large variety of American-Craft microbrews and specialty imported beer from around the world right here in Newtown. Their menu is bar food extraordinaire with a gourmet flair, boasting the best burgers in town! They're also kid-friendly!
Grab a meal and a brew with friends, either in their dining rooms or outdoor seating area, right in your own neck of the woods. Come on over to Isaac Newton's for fun food and drink, and see why they were named #1 Beer Bar 2015 by Bucks Happening!
Hours: Mon.–Sun. 11:30 am–2 am, with entire menu available from 11:30 am–10 pm Sun.–Thurs., and until 11 pm on Fri. and Sat.!
Check out some of these specials that will get your taste buds going:
• Artisan Cheese Dip – Homemade boursin cheese topped with a bacon peach compote. Served with grilled toast points and crispy pita.
• Specialty Flatbread – Grilled squash and red onion, roasted tomatoes and poblanos, house-made boursin cheese, garnished with arugula pesto.
• Char-B-Q Chicken Taco – Tender dark meat, char-b-q sauce, cilantro corn relish. Served on three warm flour tortillas.
• Strawberry Salad – Arugula, feta, red onion, candied walnuts, fresh strawberries and lemon vinaigrette.
Look them up on Facebook, Twitter and Instagram!
Location:
18 S State St
Newtown, PA 18940
215-860-5100
Viewed 52,298 times
Isaac Newton's Bar and Restaurant
18 S State St
Newtown, PA 18940