2821 S. Eagle Rd.
Newtown PA 18940

(215) 579-2972
Dolce Carini Restaurant & Pizzeria
$3 off any takeout order of $15 or more
$10 off any Dinner check of $50 or more (Dine in only)
10% off any catering order
One per customer per visit per table
Must present paper voucher in order to receive discount
Not Valid on Any Holiday
Expires Nov 30, 2019
Not to be combined with other offers.
Please present paper coupon.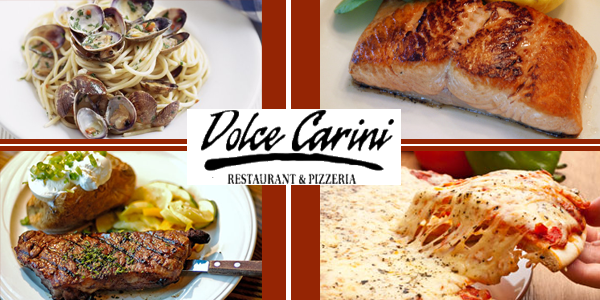 Dolce Carini Restaurant & Pizzeria
$3 off any takeout order of $15 or more
$10 off any dinner check of $50 or more (Dine in only)
10% off any catering order
Dolce Carini Restaurant and Pizzeria, servicing this area for over 20 years!! Visit their Pizzeria and grab a slice of the DELICIOUS PIZZA, or order lunch or dinner from a menu combining Dolce and Friends menus. Eat in, pick up, or HAVE IT DELIVERED! Dolce Carini Restaurant offers candle lit, linen draped tables and a comfortable, elegant ambience. Beer and wine selections from around the world compliment a mix of freshly prepared old world Italian favorites and continental cuisine including a variety of Italian and Continental American favorites including chicken, pasta and seafood dishes, along with specialty salads, panini sandwiches and individual pizzas. We also offer cocktails, extensive wine and beer choices (20 different draft selections) and wines from all over the world.
Dolce Carini and Friends Bar and Grill offer Gluten Free Pizza, Pasta, as well as, many other gluten free menu items.  View the menu here:
Menu Includes:
Appetizers
Sides
Salads
Hoagies
Wraps and Panini
Burgers
Steak Sandwiches
Pasta
Hot Sandwiches
Large Entree Menu
Pizza
Stromboli and Calzone
$3 off any takeout order of $15 or more
$10 off any Dinner check of $50 or more (Dine in only)
10% off any catering order
Viewed 45,138 times
Dolce Carini Restaurant & Pizzeria
2821 S. Eagle Rd.
Newtown PA 18940