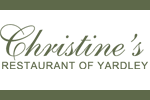 385 Oxford Valley Road
Yardley, PA 19067

215-369-2930
Christine's Restaurant of Yardley
15% off any check for dine in only
$5.00 Off any Large Pizza for take out only Limit 2 pizzas
Only valid with printed paper coupon; must bring to restaurant
Limit one per table
Maximum discount of $20
Not valid on any holiday
Minimum of 2 people per table
Not to be combined with other offers.
Expires Oct 31, 2019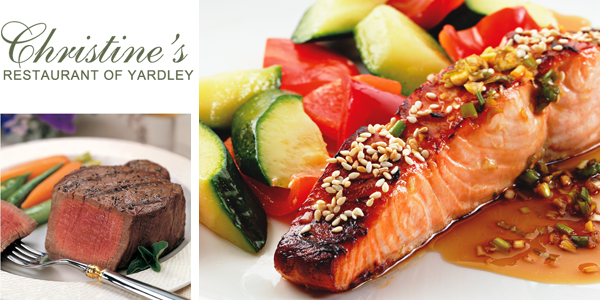 Christine's Restaurant of Yardley
15% off any check for dine in only
$5.00 Off any Large Pizza for take out only Limit 2 pizzas
Only valid with printed paper coupon; must bring to restaurant
If Italy makes you think of classic art masterpieces and leaning architecture, check out a revised version of Italy at Christine's Restaurant of Yardley, right here in Bucks County. Check out our great new menu and see what's new plus try our delicious Pizzas! They may not have Michelangelo's David, but their warm decor, seasonal al fresco patio, exceptional service and top-notch gourmet Italian food prepared with a continental flair, will have your appreciative guests saying, "Ciao Bella!"
Try our fabulous new Pizza. We have special ovens that bakes incredible dough, a sauce with a unique flavor and a thin and crispy crust which people are raving about. Call ahead today and save with this $5 off coupon from Neighborhood Promos.
At this fabulous BYOB family-friendly, five-star upscale eatery, not only can you enjoy the standard favorite Italian meat, fish and pasta dishes, but Christine's Restaurant also offers vegetarian and gluten-free entrees, and luscious desserts, freshly made with only the best ingredients. Their menu features steak, crab cakes and grilled fish, plus improvisations on traditional dishes and original creations by their own accomplished Chef James Armetta and his staff.
Christine's Restaurant is open daily, and serves breakfast, lunch, dinner, and even offers takeout. Christine's is proud to be a 100% non-smoking restaurant. Bienvenuto a Christine's Restaurant – Buon Appetito!
15% off any check for dine in only
$5.00 Off any Large Pizza for take out only Limit 2 pizzas
Only valid with printed paper coupon; must bring to restaurant
Viewed 20,217 times
Christine's Restaurant of Yardley
385 Oxford Valley Road
Yardley, PA 19067